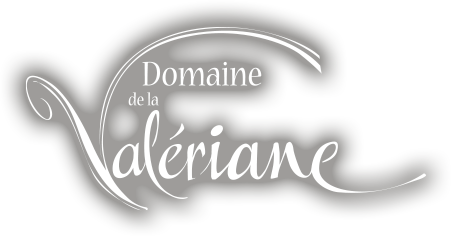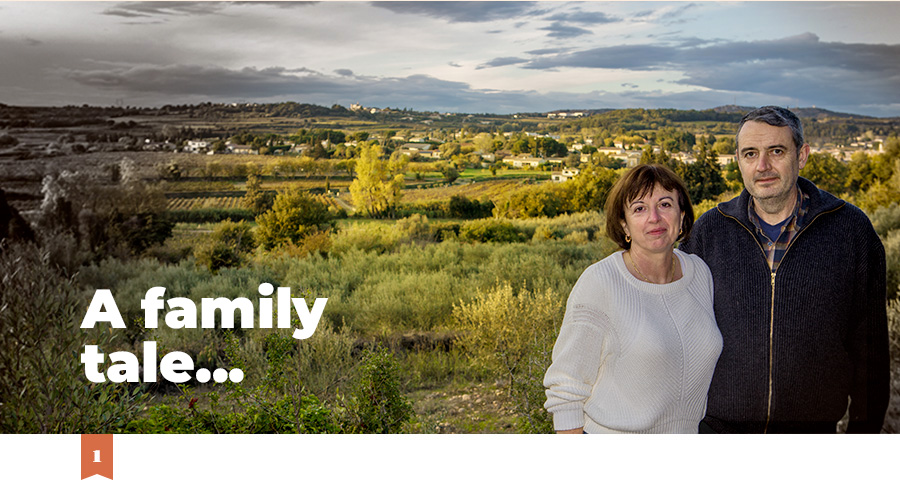 The Domaine de la Valériane is first and foremost a passion for a craft and the history of a family over four generations.
Mesmin and Maryse, the grandchildren of wine producers in Domazan, expanded the family's business in 1968 by purchasing a property in the village.
In 1982, they modernised the wine cellar and started to develop the sale of wine in bottles by creating the Domaine de la Valériane estate, inspired by the name of their daughter Valérie.
Valérie herself gained knowledge and experience as an œnologist and consultant for several years in a laboratory in Châteauneuf du Pape, and now devotes herself entirely to the family business, which she took over in 2004 with her husband Michel Collomb, himself a wine producer.
Michel developed a passion for agriculture at a young age and over the years acquired vineyards in Domazan and in neighbouring Rochefort du Gard, creating the Domaine du Clos d'Alzan estate.
For over 20 years, he has been branching out and planting varieties of olive trees traditional to the Gard, in order to produce the extra virgin olive oil sold by Domaine de la Valériane.
IDEALLY SITUATED…
Domaine de la Valériane is situated at the heart of the southern Côtes du Rhône sub-region in the village of Domazan, 15 minutes from Avignon, Capital of the Côtes du Rhône, and the Pont du Gard, the famous Roman aqueduct.
Visitors to Domazan discover a little village nestled in a shallow valley with vineyards stretching up its gentle slopes on all sides, in a landscape shaped by sun and wind and blessed with an exceptional terroir.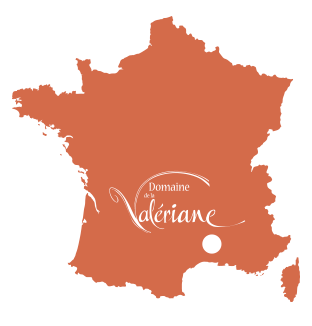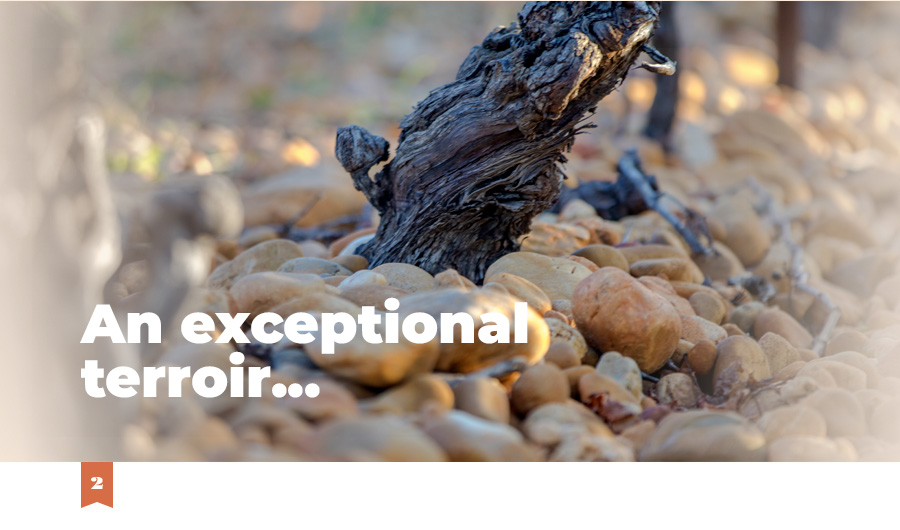 Our vineyards cover 40 hectares of clay and limestone soil on slopes covered in large pebbles (galets roulés).
This soil, typical of the Villafranchian terraces, has origins in common with that of Châteauneuf du Pape, and is characterised by a high proportion of smooth quartz pebbles brought down from the Alpes by the Rhône and mixed with red clay.
These precious galets roulés trap heat and keep the vines warm at night, helping them ripen and concentrating their aromas.
This exceptional terroir was awarded a Côtes du Rhône Villages appellation in 2005: SIGNARGUES, shared by four villages: Domazan, Estézargues, Saze and Rochefort du Gard.
The uniqueness of our estate lies in our several dozen parcels spread across different zones of the area covered by the appellation. Variations in the soil and micro-climate even within the estate, combined with the diversity of our grape varieties, enable us to produce a wide range of wines.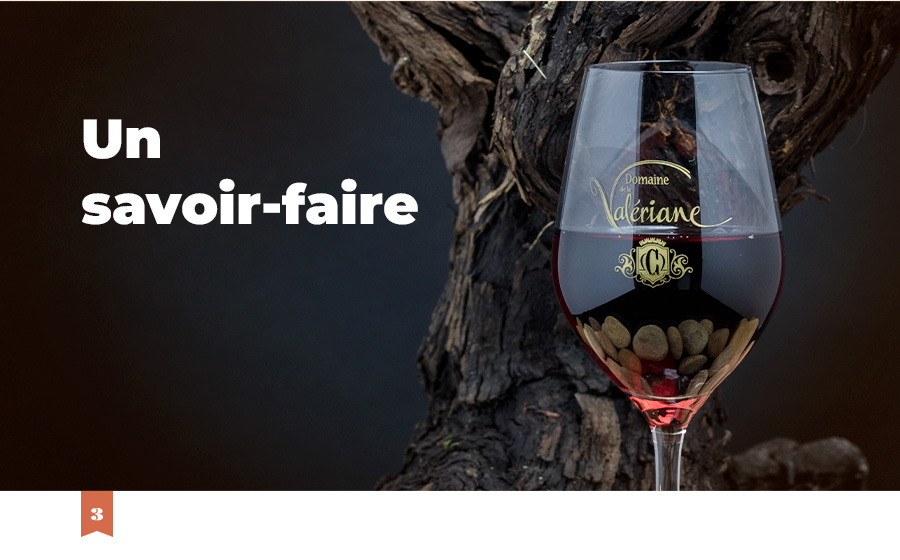 Careful vinification…
We carefully vinify a number of typical grape varieties of the Rhône Valley:
– Grenache and Syrah, plus Mourvèdre, Carignan and Counoise, for our red wines.
– Grenache, Syrah and Cinsault for our rosé wines.
– Viognier, Roussanne and White Grenache for our white wines.
Thanks to our experience in producing wine and our approach to quality based on respect for the environment (ploughing, green harvesting, picking, etc.) we work throughout the year to obtain a high quality grape.
You can't make good wine without good grapes, which is why we take particular care in choosing the right date on which to harvest each parcel in order to ensure the grapes are perfectly ripe and therefore of the best possible quality.
Our products are then crafted in our cellar using modern, tailored equipment: destemming of the harvest, thermo-regulated fermentation, gentle pressing, etc.
The wine is aged mostly in vats, but also in demi-muids (barrels of 600 litres) for some of the Côtes du Rhône Villages Signargues wine assembled.
We pay careful attention to the aging of our wines throughout the year. After tasting and analysis, the wines are bottled on the estate and stored in a temperature-controlled room.
CONTACT US
DOMAINE DE LA VALÉRIANE
82 Route d'Estézargues 30390 DOMAZAN
Phone. +33 (0)4 66 57 04 84
OPENING HOURS
From 10am to 12pm and 2pm from 7pm, every day except Sundays and public holidays.
Mail-order possible, contact us.